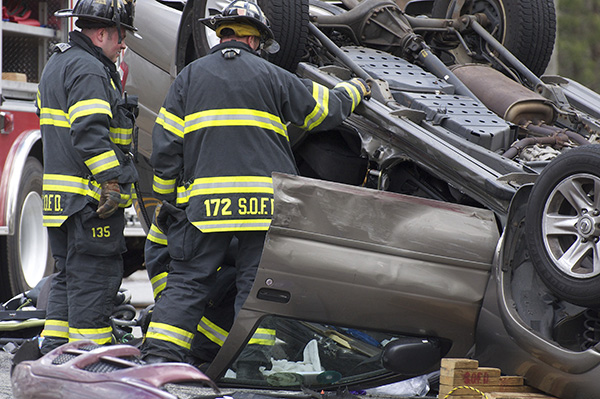 Every day we rely on and expect motorists on the public roadway to maintain and follow the rules of the road. Even if you have done nothing wrong, you can find yourself involved in a motor vehicle collision, incurring thousands in property damage and worse, being injured. No one chooses or wants to be in a car wreck. Unfortunately, the decisions and choices of other drivers have consequences that cause injuries and sometimes are fatal.
If another motorist's negligence caused a serious car wreck injury for you or a loved one — leaving only physical pain, emotional suffering, lost income, medical bills and vehicle replacement costs in its wake — the help of an experienced, compassionate personal injury attorney can give you the strength to face these challenges.
Accidents that appear simple can often become complex and time consuming. Injuries may not appear for days or weeks or may appear minor, but the impact can last for years. Remember, there is no such thing as a "minor auto accident." Symptoms can progress over time and become debilitating. It is imperative you seek medical attention if you even suspect you may have an injury.
Car accidents can include:
Rear-end collisions
Drunk driving accidents
Dram Shop Liability (Establishment Liability for Overserving Alcohol)
Distracted driver accidents
Fatal car accidents
Motorcycle accidents
ATV and RV accidents
Passenger injuries
Bicycle accidents
Pedestrian accidents
Hit-and-run accidents
Truck and bus accidents
Intersection accidents
Semi-truck and tractor-trailer crashes
Workers' compensation accidents in company-owned vehicles
If you are involved in a motor vehicle accident, you should do the following:
Immediately assess your injuries and your occupants' injuries
Assess your surroundings so you are not involved in another accident
Identify all parties involved and witnesses before they leave the scene
Use your smartphone and take photographs and recordings of important statements at the scene
Notify authorities so that they may investigate. Cooperate with law enforcement
Contact emergency authorities for the care and treatment of injured or potentially injured parties
Document property damage of all vehicles involved
Document skid marks, gouge marks, faulty equipment and road conditions
Exchange information with other drivers and obtain identifying insurance information
Seek medical condition if you suspect you may be injured
Do not provide a statement to a private investigator or insurance adjustor until you have all the facts
Become aware of your legal rights and responsibilities asap
Auto accident cases are typically defended by aggressive insurance companies in order to minimize their damages while defending the driver at fault. Every year, millions upon millions of dollars are spent to prevent insurers from having to pay claims or injured victims.
Some insurance companies even conduct classes to teach their insurance adjusters how to deny legitimate claims. Don't let the insurance company take advantage of you. You should contact legal counsel as soon as possible to preserve necessary and important evidence, advise you of your legal rights, to investigate the circumstances of the accident and advise you in how to move forward. Contact WHA immediately for your free initial consultation. We have decades of experience handling significant injuries that arise from motor vehicle collisions.