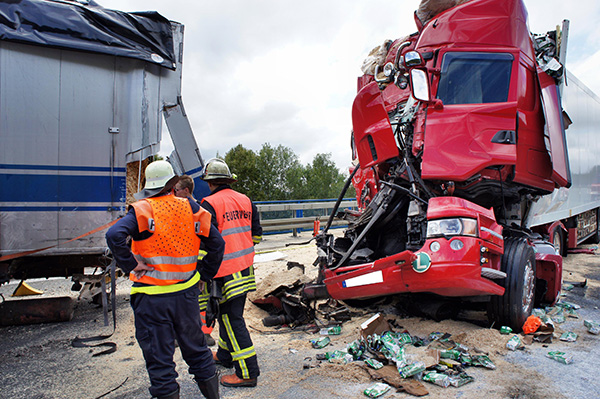 If you have ever witnessed or seen a trucking accident, you know just how much damage a truck, bus or large motor vehicle accident can cause. If an accident involves a truck or 18-wheeler, bus, utility truck, dump truck, emergency vehicle or other large vehicle, there is almost always significant property damage along with very serious injuries. Even death can occur due to the magnitude of the crash.
Commercial vehicles include, but are not limited to:
UPS Trucks and Commercial Delivery Vans
Flatbed Trucks, Logging Trucks and Tanker Trucks
Garbage Trucks, Dump Trucks and Construction Vehicles
Panel Vans and Commercially-Operated 18 Passenger Vans
18-Wheelers, Big Rigs, Semi-Trucks and Tractor-Trailers
A number of factors can contribute to truck accidents: the driver, his or her qualifications, character and experience, how he or she got behind the wheel, lack of training, overloaded freight, the driver's fatigue, speed, or even his or her substance abuse habit are all relevant to each and every truck accident case. A lot of trucking companies dispatch tractor-trailers on schedules so tight that they often cause truck drivers to operate their trucks for an unreasonably long period of time at a high rate of speed despite the law. Practices like this only increase the potential danger for other drivers and their families.
Moreover, the negligence of the persons who are responsible for the commercial vehicle and its operation; including the driver, trucking company, and manufacturer of the tractor-trailer are often a factor in commercial vehicle accidents and should be held accountable.
The commercial transportation industry is highly regulated, both at the state and federal level. Rules regarding the number of hours a driver can work per day, the speed of trucks, the size and distribution of loads and required equipment maintenance and vehicle safety checks are designed to protect the motorists who share the road with commercial trucks. When those rules are routinely broken, it is almost inevitable that an innocent person will be injured or killed.
WHA understands commercial insurance, interstate transportation laws, truck and large vehicle mechanics, as well as the federal regulations such as drug and alcohol testing and truck driver service hour requirements. You can usually count on a trucking company to have a large insurance policy or policies that it is willing to protect at all cost — however, you can depend on the lawyers of WHA to protect your interests.
WHA will protect your rights in a trucking accident and injury case. The trucking company and their insurer will act almost immediately to cover up evidence and limit their exposure to insurance claims and lawsuits. Insurance adjusters often try to obtain statements from accident victims that can later be used to challenge a personal injury claim. If you were hurt in a trucking accident, do not give a statement or sign any insurance papers without first consulting an experienced attorney as soon as possible.
Remember, anyone could be a victim of such an accident. If you or a loved one has been injured or suffered losses related to an accident involving a commercial vehicle or tractor-trailer, contact WHA immediately. Our lawyers can successfully litigate claims resulting from the negligence of commercial truck drivers or a trucking/logistics company.